Rompin State Park, or Taman Negeri Rompin Pahang is teeming with stunning natural wonders, flourishing flora and fauna, and rich biodiversity. Our Resort is set amongst 55 acres of the Kinchin Base Camp and offers a comfortable base for visitors to enjoy one of the largest forest complexes in Peninsular Malaysia. Experience some of the Park's natural attractions, including Mahkota Waterfall, Lubuk Siku, Ulu
Kemapan and Padang Tujuh via our range of guided and non-guided activities. Activities have been designed and offered with various difficulties to cater for visitors of all ages. Leave your worries and stress behind; relax, refresh and reconnect with nature at Rompin State Park.
兴楼云冰国家公园或 彭亨瓜拉云冰公园充满了令人惊叹的自然奇观、繁茂的动植物群和丰富的生物多样性。我们的度假村坐落在占地 55 英亩的 Kinchin 大本营中,为游客提供舒适的基地,让他们享受马来西亚半岛最大的森林综合体之一。体验公园的一些自然景点,包括皇冠瀑布、Lubuk Siku、乌鲁 通过我们的一系列导游和非导游活动游览 Kemapan 和 Padang Tujuh。我们设计并提供了各种难度的活动,以满足各个年龄段的游客的需求。把你的忧虑和压力抛在脑后;在云冰州立公园 (Rompin State Park) 放松身心、恢复活力并与大自然重新建立联系。
Complimentary Activities 免费活动
✓ Access to Kinchin Base Camp 进入 Kinchin大本营
✓ Rainforest Discovery Centre (RDC) 雨林探索中心
✓ Suspension Bridge 吊桥
✓ Watchtower 瞭望塔

Inclusive of:
● 2 Nights Accommodation
● Meals (2 breakfast, 1 lunch & 2 dinners)
● Guided Nightfall Tour
● Guided Kinchin River Cruise Tour with Picnic Snack
● Guided Jungle Trekking Tour to Makhota Waterfalls
COMPULSORY ADD-ON: ENTRANCE FEE TO TAMAN NEGERI ROMPIN
1. Adult – RM 30.00 ( Malaysian) , RM 50.00 (Not Malaysian)
2. Child (3 – 12 years old) – RM 10.00 ( Malaysian), RM 30.00 ( Not Malaysian)
3. Senior Citizen (60 years old and above) – RM15.00 ( Malaysian) , RM 30.00 (Not Malaysian)
4. Disabled – Free
Optional TNR Guided Activities: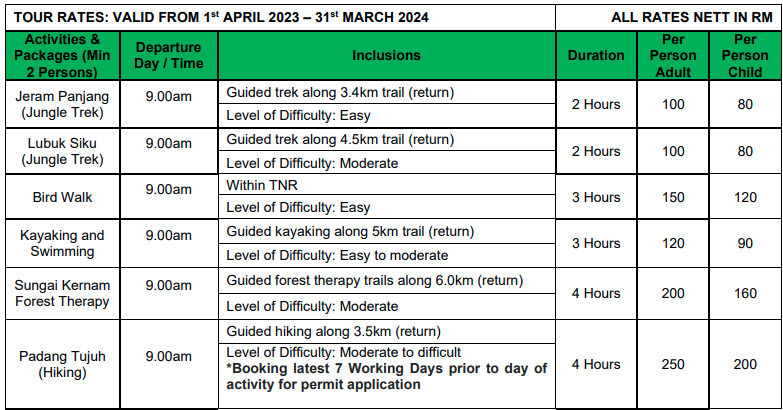 *Terms and conditions apply.