DAY 1 ARRIVE ISTANBUL✈ DOMESTIC FLIGHT TO MARDIN (2hr) {IST}
第一天抵达伊斯坦堡 ✈国内航班飞往马尔丁 (D)
➢ Visit Dara Old Town of Mardin 参观马尔丁达拉老城
➢ Grand Mosque 堂皇的清真寺
➢ Deyrulzafaran Monastery 德鲁扎法兰修道院
Accommodations: 4* Anemon Hotel or similar
DAY 2 MARDIN – GOBEKLITEPE – SANLIURFA
马尔丁 – 哥贝克力石阵 – 桑尼乌法 (B/L/D)
➢ Visit the oldest Neolithic site with its temples 参观最古老的新石器时代遗
址及其神庙
➢ Drive to Urfa for local lunch 驱车前往乌尔法享用当地午餐
➢ Visit Halil-Ür Rahman Lake 参观哈利勒拉赫曼湖
➢ Old Bazaar 古老集市
Accommodations: 4* Hilton Garden Inn Hotel or similar
DAY 3 SANLIURFA – HARRAN – ADIYAMAN 桑尼乌法 – 哈兰 – 阿迪亚曼 (B/L/D)
➢ Visit Beehive Houses 参观蜂巢屋
➢ Climb up to Nemrut Mountain by minivan 乘坐小型货车登上内姆鲁特山
Accommodations: 4* White Star Hotel or similar
DAY 4 ADIYAMAN – HALFETI – GAZIANTEP 阿迪亚曼 – 哈尔费蒂 – 加济安泰普 (B/L/D)
➢ Boat tour of the Euphrates River 幼发拉底河游船
➢ Visit Zeugma Mosaic Museum 参观佐格马马赛克博物馆
➢ Famous Coppersmiths Bazaar 著名的铜匠集市
Accommodations: 4* Novotel Hotel or similar
DAY 5 GAZIANTEP – CAPPADOCIA 加济安泰普 – 卡帕多奇亚 (B/L/D)
➢ Visit Cardak Underground City 参观卡达克地下城
➢ Belly Dance Show Dinner at Evranos Restaurant 埃夫拉诺斯餐厅欣赏
肚皮舞表演+晚餐
Accommodations: 4* Mustafa Hotel or similar
DAY 6 CAPPADOCIA 卡帕多奇亚 (B/L/D)
➢ Photo stop to the Uchisar Castle, Love, Mushroom, and Pigeon Valleys
前往乌奇希萨尔城堡、爱情谷、蘑菇谷和鸽子谷拍照留念
➢ Visit Avarnos Village 参观阿瓦诺斯村
Accommodations: 4* Mustafa Hotel or similar
DAY 7 CAPPADOCIA ✈ DOMESTIC FLIGHT TO ISTANBUL 卡帕多西亚✈飞
往伊斯坦堡的国内航班 (1hr15m) (B/L/D)
➢ Bosphorus Cruise 博斯普鲁斯海峡游轮
➢ Spice Bazaar 香料市场
➢ Turkey's Handmade Crafts 土耳其的手工艺品
➢ Visit Taksim Square 参观塔克西姆广场
Accommodations: 4* Golden Way Hotel or similar
DAY 8 – DEPART ISTANBUL✈ KUL 伊斯坦堡 ✈ 吉隆坡 (B)
➢ Visit Blue Mosque 参观蓝色清真寺
➢ Hippodrome 跑马场
➢ Hagia Sophia 圣索菲亚大教堂
➢ Grand Photo stop at Tokapi Palace 托卡匹皇宫
Transfer to Airport 出发前往机场返回家乡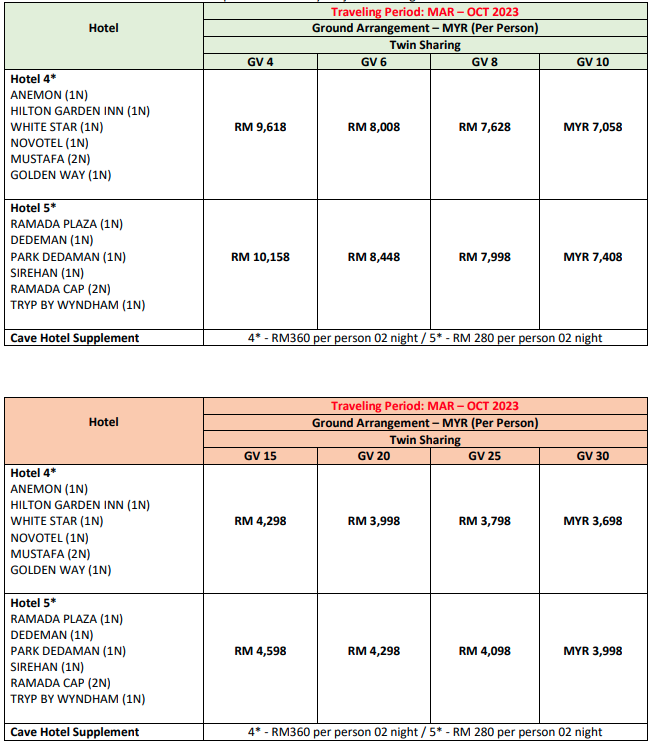 INCLUDED:
1) All items mention in itinerary
2) Domestic flight (D1) Istanbul – Mardin; (D7) Cappadocia – Istanbul
3) Nights' 4* Accommodations. With daily Hot Breakfast/ 7 lunch/ 7 dinner
4) English Guide through from arrival till departure
EXCLUDED:
1) International Flight
2) Any extra personal expenses
Any other Service not mentioned above
REMARKS:
1) Private tour Min. GV.4 per booking with English driver cum guide.
2) Please ensure your flight schedule tallies with our tour schedule. Any missed flight will not be refunded.
3) Non-refundable deposit of RM 1000/ pax upon booking confirmation.
4) Once the booking is confirmed, non-transferable, non-changeable, non-refundable are allowed.
5) Full Payment 45 Working Days before Tour Departure- (Subject to change).
6) 100% cancellation charges apply for any changes of booking & cancellation.
7) Compulsory tipping for Driver Cum Guide RM 480 /per tour /per pax.
8) Prices are quoted per person in Ringgit Malaysia (MYR) & subject to change without prior notice.
9) Hotel rooms are subject to availability. If selected hotel unavailable, others similar accommodation will be provided with
different price apply (if any). * Hotel check in time 15.00 – onwards. Check out time 11.00.
10) Child twin share = child with extra bed = adult twin share fare: 100% of adult fare (Twin Share), Child no bed = 75% from
Adult Twin Share fare.
11) Time different Malaysia is 5 hours ahead of Turkey. Currency – TRY (Turkey Lira).
12) Compulsory Shopping Stops: Carpet, Jewellery, and Leather
13) Tour packages are only applied for Malaysian passport holder.
14) No services has been blocked under your favor, subject to availability upon your confirmation.