About The Tour
Discover Malaysia in a one of a kind experience. The tour will take you to several parts of Malaysia using the high-speed Electric Train Service (ETS) from Kuala Lumpur before spending a night in Ipoh and Perlis before taking a journey with a comfortable ferry to Langkawi.
You will be able to experience KL City atmosphere, historical sight and amazing food in Ipoh, natural wonders of Perlis, duty – free shopping and beautiful beaches in Langkawi!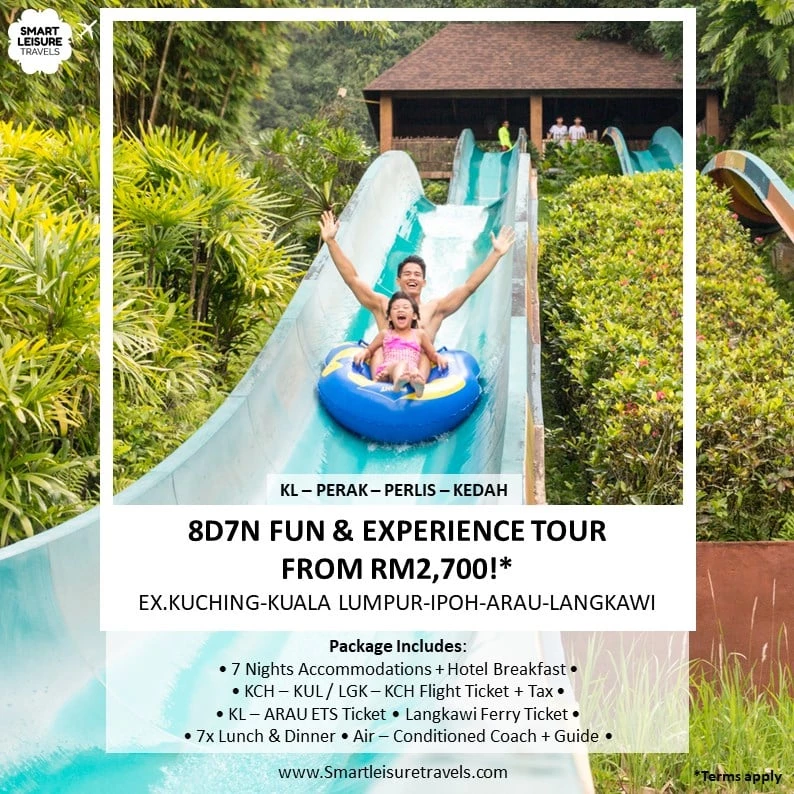 Pricing
RM 2700* / adult
RM2300* / child
RM1900* / child without bed
*Terms Apply
---
Terms & Conditions
The above group tour min. pax 20 & above, less than 20 pax will be subject to re-quote.
Deposit upon reservation RM800 per pax and tour fare balance will be collect 21 days before departure.
Due to the impact of the pandemic, if the group cannot be formed, we will reschedule or full refund of deposit or your deposit can be purchase for others tour packages and etc.
If group tour confirmed the departure and you wish to cancel the tour within 14 days prior departure date, the deposit of RM800 will not be refunded, due to air ticket will be issued, but the balance of tour fare will be fully refunded or can keep for other packages and etc.
关于行程 以一种独一无二的体验探索马来西亚。这次旅行将带您从吉隆坡乘坐高速电动火车服务 (ETS) 前往马来西亚的多个地区,然后在怡保和玻璃市过夜,然后乘坐舒适的渡轮前往兰卡威。 您将能够体验吉隆坡的城市氛围、怡保的历史景观和美味佳肴、玻璃市的自然奇观、兰卡威的免税购物和美丽的海滩!
价钱
RM 2700* / 成人
RM2300* / 儿童
RM1900* / 儿童不占床
*适用条款
条款及条件
以上团体旅游最少。 20人及以上,20人以下需重新报价。
预订时需支付押金每人 RM800,团费余额将于出发前 21 天收取。
由于疫情影响,如无法成团,我们将改期或全额退还押金或者您的押金可以购买其他旅游套餐等。
若团体旅游已确认出发,而您想在出发日期前14天内取消行程,则RM800押金将不予退还,因为机票将被发出,但团费余额将全额退还或保留对于其他包等。